Schedule
Start date of construction Q1 2017




2017-02-01




2023-12-11

Date of delivery Q3 2020




2020-08-31
Start date of construction Q1 2017
Gallery
Make a virtual tour outside and inside. We are permanently adding new material to our gallery.
Gallery, outside
Gallery, inside
Location
There are several services and leisure facilities available in the vicinity of Csillaghegy Residence. The city centre is conveniently accessible both by car and by public transport from this nice garden suburb.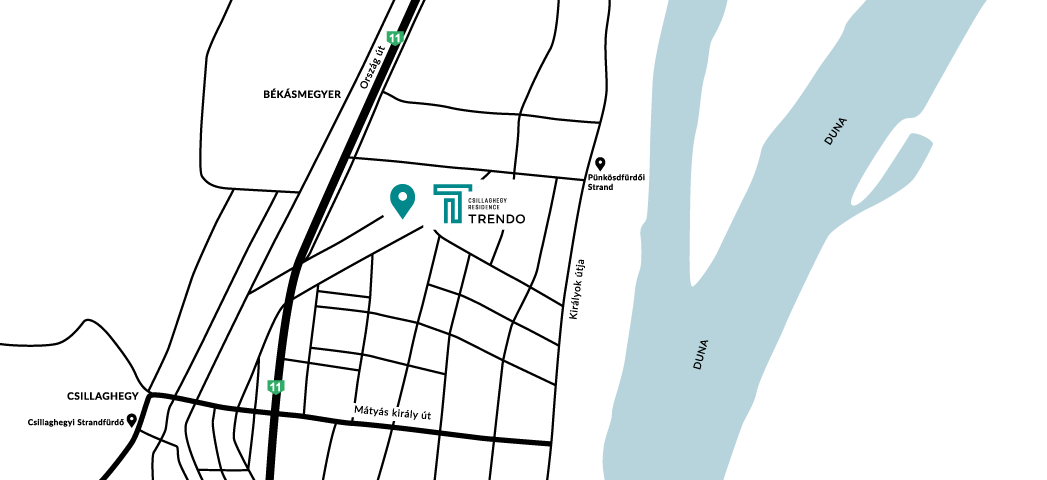 Main technical specifications
Due to the materials and construction technologies used and meeting today's standards, Csillaghegy-Residence has an excellent energy rating. Due to the wallings, external doors and windows with excellent heat-insulation, as well as to the modern sanitary engineering solutions, your new home will be comfortable and will save energy costs for you.
Parked environment, high-standard gardening, own internal walk.
Pure architectural concept, finishing of surfaces on facade at high standards.
Wallings with perfect heat insulation, excellent energy rating.
High-standard sanitary engineering solutions, modern and energy saving heat-pump technology.
Ceiling mounted surface heating/cooling system delivering high level of comfort.
Modern external doors and windows with excellent heat insulation due to triple glazing.
Penthouse apartments with view to Buda, with individual roof terrace and with pre-assembly for utilities for whirlpool.
We are at your disposal any time.
Our sales staff are at your disposal any time. We will contact you within 24 hours time (on business days).
Investor
Trendo Invest Kft.
Investor's address:
1054 Budapest, Szabadság tér 7 – Bank Center
Sales
T +36 30 212 9888
E ertekesites@csillaghegy-residence.hu
W https://csillaghegy-residence.hu
1054 Budapest, Szabadság tér 7 – Bank Center